Book Now
Check Rates & Availability
EU
Resorts
Check Rates
& Availability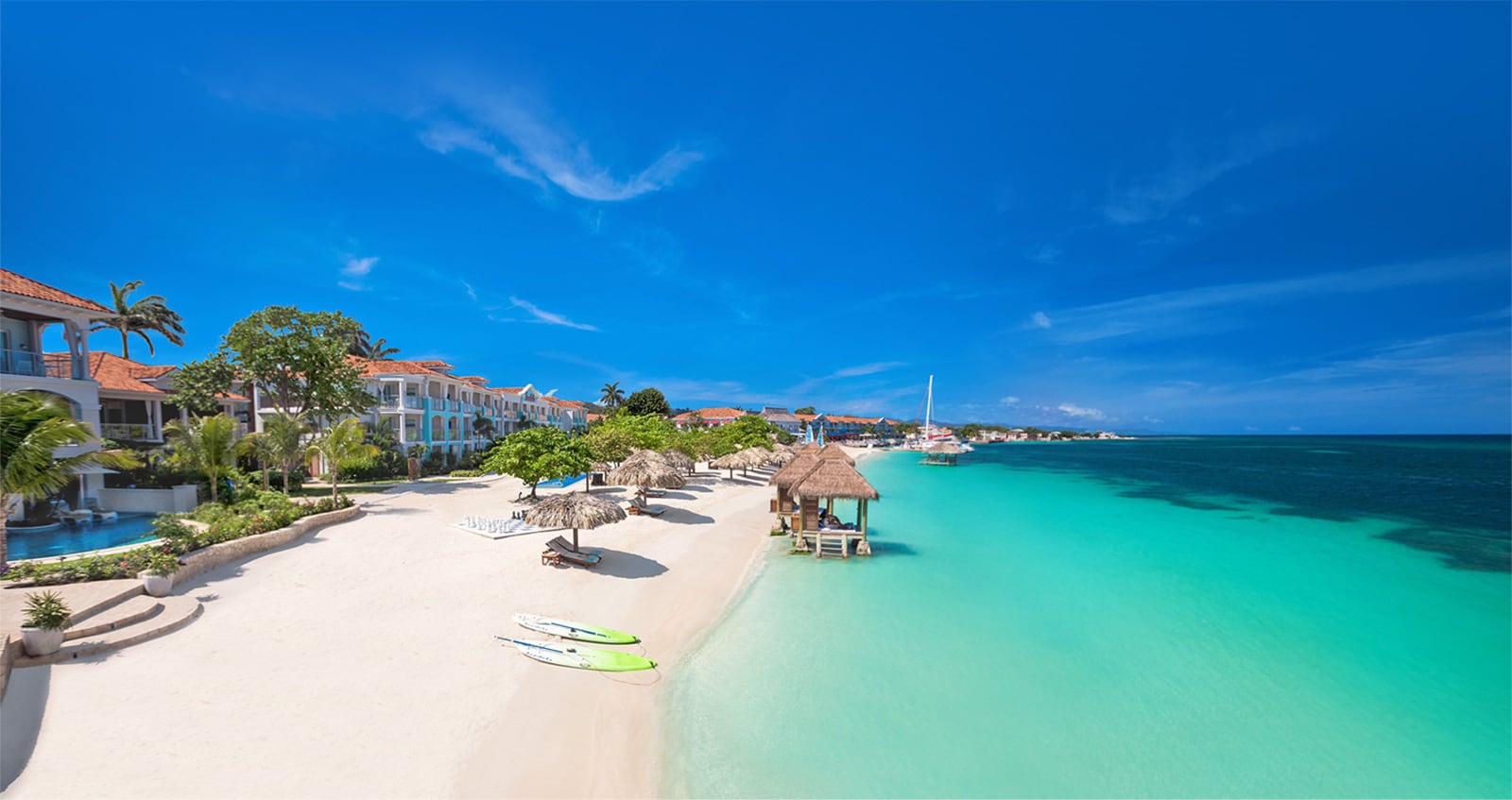 about

sandals resorts international
sandals montego bay
montego bay, jamaica
the flagship property of sandals resorts
scroll below
Brands
Our Family of Resorts
HISTORY
SANDALS AND BEACHES RESORTS
About Sandals and Beaches Resorts
World renowned Sandals and Beaches Resorts has transformed from one brand and one resort in Montego Bay, Jamaica to become one of the most well-known and award-winning hospitality names in the world. With five brands and 25 properties in eight countries including Antigua, The Bahamas, Grenada, Barbados, Jamaica, Saint Lucia, Curacao and Turks and Caicos, Sandals and Beaches Resorts is the undisputed leader of Caribbean holiday experiences and remains fiercely committed to the region, dedicating itself to innovative resort development that in the words of Chairman and Founder Gordon "Butch" Stewart, "exceed expectations" for guests, associates and the people who call the Caribbean home.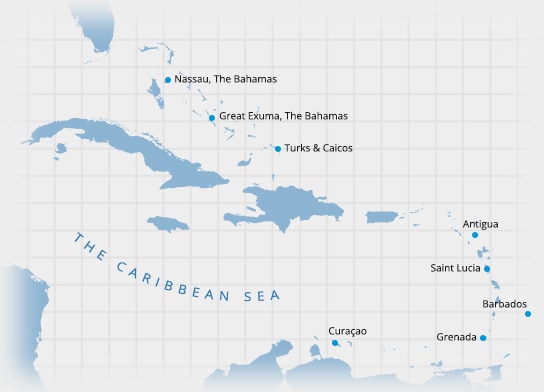 Our Chairman and Founder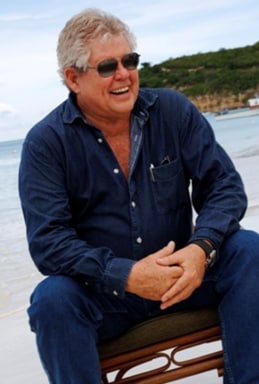 HON. GORDON "BUTCH"
STEWART O.J., C.D., HON. LLD
Chairman and Founder

July 6, 1941 - January 4, 2021

SANDALS RESORTS INTERNATIONAL
In an age of great men, Gordon Arthur 'Butch' Stewart O.J., C.D., Hon. LLD, stands out as a beacon of human possibility. As a proud Jamaican, Butch Stewart has blazed a trail that has redefined entrepreneurship and humanised success for 40 years.
But no one with knowledge of only a few aspects of Butch Stewart can grasp the depth and complexity of his character. His easy pace, infectious warmth and trademark striped shirt, belies the prowess and acute business acumen responsible for his estimated billion-dollar, privately-owned Jamaican-based empire that today includes 25 Caribbean resorts, Appliance Traders Ltd., ATL Automotive, ATL Autobahn and The Observer media company. All told, Stewart spearheads two dozen diverse companies that collectively represent Jamaica's largest private sector group, the country's biggest foreign exchange earner and its largest non-government employer. This is a man fueled by a dogged passion for hard work, duty to country and love of family who always seems to be having the most fun. "Honestly, I've never worked a day in my life," says he.
Son of Gordon Leslie Stewart and Jean Patricia (née Townend), Butch Stewart was born in Kingston, Jamaica on July 6, 1941. He grew up along Jamaica's North Coast, a tropical paradise that now boasts several of his Luxury Included® Sandals and Beaches Resorts. His boyhood was spiked with its fair share of mischief and love of adventure; a creative energy that now finds expression in one business success after another and an ample dose of sea life and dominoes.
After completing his secondary education in England, he returned to Jamaica and in short order established himself as a master salesman. This impressive start lit a torch and unleashed a burgeoning entrepreneurial zeal in young Stewart. In 1968, he resigned his post as a sales manager with the Dutch-owned Curacao Trading Company to start Appliance Traders Ltd., then a service and distribution company for Fedders air conditioners. The company grew meteorically but by 1981, Stewart was ready to conquer new horizons and thus began the story of Sandals Resorts.
Despite no hotel experience, Stewart bought a rundown hotel on a magnificent beach in Montego Bay as a real estate investment, approaching this business with the same simple philosophy he articulated many times: "Find out what people want, give it to them and in doing so - exceed their expectations."
Seven months and $4 million in renovations later, Sandals Montego Bay opened as the flagship of what is today, the most popular award-winning, all-inclusive resort chain in the world. Stewart has never laid claim to starting the all-inclusive concept, couples-only format but he is recognized worldwide for the consistent innovation and unsurpassed level of luxury he has brought to the all-inclusive experience.
Where other so-called "all-inclusives" offered meals and rooms at a set rate, Sandals Resorts' prices covered dining options, premium brand drinks, gratuities, airport transfers, taxes and all land and watersport activities. The competition meals were buffet-style, so Stewart created the on-property specialty restaurants with high culinary standards and white-glove service. Sandals Resorts also was the first Caribbean hotel company to offer whirlpools and satellite television service, the first with swim-up pool bars and the first to guarantee that every room is fitted with a king-size bed and a hair dryer. The Sandals Resort International's Luxury- Included® experience features a signature spa concept – Red Lane® Spa, signature luxury suites designed for privacy and ultimate pampering, signature partnerships with iconic organizations such as Microsoft Xbox® Play Lounge, Sesame Workshop, PADI and Robert Mondavi Wines . More recent innovations include the addition of Over-the-Water Villas and Bungalows concept, Over-the-Water bars in Jamaica, and Over-the-Water wedding chapels to a number of its properties in Jamaica and St. Lucia.
By steadfastly adhering to the "We can do it better" principle of pleasing his guests, Stewart has fostered a company free to imagine and free to consistently raise the bar. This has earned him the title of "King of All-Inclusives," changing the face of the all-inclusive format and establishing Sandals Resorts as the most successful brand in the category – boasting year-round occupancy levels of more than 85 percent, an unequaled repeat guest factor of 40 percent and demand that has led to unprecedented expansion including the creation of additional concepts such as Beaches Resorts, now the industry standard for excellence in family beach vacations.
Today, Sandals Resorts International operates nine resorts and three private villas in Jamaica, three resorts in Saint Lucia, three in The Bahamas, one in Antigua, one in Grenada, two in Barbados and one in The Turks & Caicos Islands – and is poised for continued growth with a Sandals Resorts to open on the island of Curaçao and a Beaches Resorts to open in St. Vincent & The Grenadines. For 25 years in a row, Sandals Resorts International has been named the World's Leading All-Inclusive Company at the prestigious World Travel Awards and has been recognized by the industry and consumers for excellence worldwide including the following organizations in the United States:
Agent At Home
AAA
About.com
American Academy of Hospitality Sciences
American Express
Apple Vacations
Brides Magazine
Budget Travel Magazine
The Caribbean Hotel & Resort Investment Summit (CHRIS)
Classic Vacations
Condé Nast Traveler Annual Readers' Choice Poll- Best in the World
Condé Nast Traveler's Annual Spa Poll "Top 270 Spas"
Condé Nast Traveler World Savers Award
Corporate Meetings & Incentives
DestinationWeddings.com
Fodor's
Flight Centre
GOGO Vacations
Hospitality Sales & Marketing Association International (HSMAI)
Islands
Meetings & Conventions
MLT Vacations
Ocean Style Magazine
Oyster
PADI
Performance Media Group
PR Daily
Porthole Cruise Magazine
Recommend
Travel + Leisure
Travalliance
Travel Weekly
TravelAge West
TripAdvisor®
USA Today
US News & World Report
Vacation Agent
Women's Choice Awards
His leadership and pioneering role helped resurrect Jamaica's travel industry and earned the respect of his peers and the admiration of his countrymen. He was elected President of the Private Sector Organization of Jamaica in 1989 and was inducted in its "Hall of Fame" in 1995. He served as a Director of the Jamaica Tourist Board for a decade and as President of the Jamaica Hotel and Tourist Association from 1984 -1988. In this capacity, he ably balanced government and private sector priorities, reconciling the concerns of large and small Jamaican hotels and raising public understanding of the tourism industry. In 1994, Stewart led a group of investors to take leadership of Air Jamaica, the Caribbean's largest regionally based carrier. It was a daunting task -planes were dirty, service was indifferent and on-time schedules were rarely met, causing market share to plummet along with revenues.
When Stewart stepped in, he insisted on a passenger-friendly approach: on-time service, reduced waiting lines, increased training for all personnel, and signature free champagne on flights to accompany an emphasis on better food. He also opened new routes in the Caribbean, brought on new Airbus jets and established a Montego Bay hub for flights coming from and returning to the United States. Just as with ATL and Sandals Resorts, Stewart's formula proved successful and in late 2004, Stewart gave the airline back to the government with an increase in revenue of over US$250 million.
Perhaps less well-known is the extent of his considerable philanthropy. Sandals Resorts International currently gives active support to almost 300 major projects in its host communities through its philanthropic arm, The Sandals Foundation. This support ranges from the building of schools and the paying of teachers, to providing hospitals with linens and bringing healthcare to the doorsteps of those who cannot afford it. Beyond the Foundation, in his homeland of Jamaica, Stewart stepped in to revive the economy by donating $1 million to stop inflation and adjust the exchange rate. During the Persian Gulf War, Stewart gave over $1 million in free vacations at Sandals Resorts to "Operation Desert Storm" veterans and their guests. After Operation Iraqi Freedom, he doubled the effort and donated $2 million in complimentary vacations to active members of the U.S. armed forces.
In 2012, Stewart founded the Sandals Corporate University, aimed at providing professional development for employees through reputable education and training programs. With access to more than 230 courses and external partnerships with 13 top-ranking local and international universities, every staff member has the opportunity to apply, broaden their knowledge and advance their career.
Stewart's successes in business and in life have earned him more than 50 well-deserved local, regional and international accolades and awards including Jamaica's highest national distinctions: The Order of Jamaica (O.J.), and Commander of the Order of Distinction (C.D.) He is the 2001 recipient of the Honorary Doctor of Laws (LLD) from the University of the West Indies and also the 2009 recipient from the University of Technology. In 1992, Stewart was presented with the Martin Luther King Jr. Humanitarian Award in recognition of his tireless efforts to advance humanity. Emst & Young voted him Master Entrepreneur of the decade of the 90s. Stewart is a Paul Harris Fellow, Rotary International's highest award and highest award. At the 2000 World Travel Awards, he was voted "Travel Man of the Millennium" for his work in promoting Caribbean tourism. In 2011, The Caribbean American Foundation presented Stewart with the Golden Eagle Humanitarian Award in recognition of his philanthropic contributions to education and entrepreneurship in the Caribbean. In 2016 Stewart was honored with the Most Innovative All-Inclusive Resort Executive by the Travalliance Travvy Awards, Hotelier of the Year at the Cacique Award held by the Bahamas Ministry of Tourism and the Invest Caribbean Now Leadership Award presented at its global summit. Most recently, Stewart was awarded with the Chancellor's Award on behalf of his company at the 10th Annual University of The West Indies (UWI) Toronto Benefit Gala in recognition of its extraordinary international success and positive contribution to the region.
He has earned Lifetime Achievement Awards from The American Academy of Hospitality Sciences, Travel Weekly and Globe Travel Awards and was awarded an Honorary Doctorate of Business Administration from hospitality authority, Johnson & Wales University. He is one of Jamaica's most visible and respected personalities, making him a formidable ambassador for brand Jamaica where since 2010 he has served as Chair of JAMPRO, the country's Investment and Promotions agency. He was honored with the inaugural Lifetime Achievement Award at the annual Caribbean Hotel & Resort Investment Summit (CHRIS), hosted by the Burba Hotel Network, marking his significant contribution to the hospitality industry over his lifetime with great accomplishment.
Gordon "Butch" Stewart, one of the hospitality industry's most vibrant personalities passed away at the age of 79 on January 4, 2021. The company Butch Stewart built remains wholly owned by the Stewart family, In honor of Mr. Stewart's long-term succession plans, his son, Adam Stewart, has been named the new Chairman of Sandals Resorts International.
Gordon "Butch" Stewart is survived by his wife, Cheryl, children Brian, Bobby, Adam, Jaime, Sabrina, Gordon, and Kelly; grandchildren Aston, Sloane, Camden, Penelope-Sky, Isla, Finley, Max, Ben, Zak, Sophie, Annie and Emma; and great grandchildren Jackson, Riley, Emmy and Willow.
Butch Stewart was not only a respected hotelier, he was businessman, a marketer, innovator, philanthropist, family man and mentor. He left a lasting impression on anyone who crossed his path and left a legacy of love and passion within the travel industry.
In honor of his legacy, Sandals Resorts International has established two new programs to further his passion. Alongside the Sandals Corporate University, the new Gordon "Butch" Stewart Tourism & Hospitality Scholarship will benefit young professionals employed in the tourism sector across the Caribbean. Furthermore, the Sandals Foundation has developed a dedicated Marine Conservation effort in his name to protect the Caribbean Sea he loved.
A devoted father and grandfather, Gordon Butch Stewart made his life in the Caribbean and his legacy will last far beyond his own imagination.
Read More
Our Executive Chairman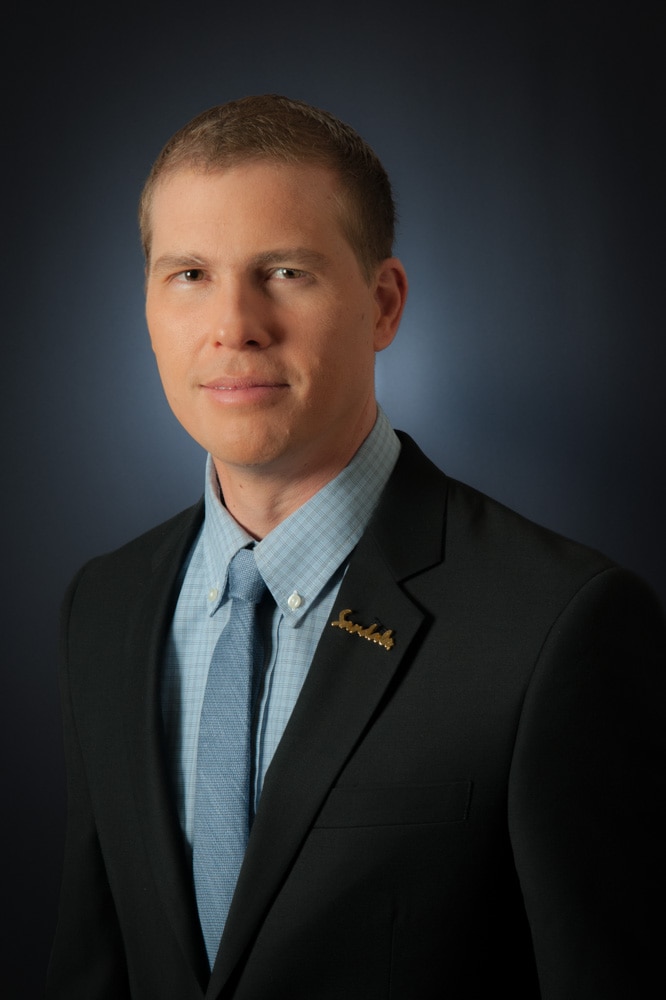 Adam Stewart
Deputy Chairman, Sandals Resorts
Adam Stewart is Executive Chairman of Sandals and Beaches Resorts, the company founded by his father, Gordon "Butch" Stewart which includes the world's most recognised brands of luxury all-inclusive resorts including adult, couples-only Sandals Resorts and family-friendly Beaches Resorts. His efforts have been recognised by numerous hospitality industry awards including being named the 2015 Caribbean Hotel and Tourism Association Hotelier of the Year. In addition to his responsibilities as Executive Chairman, Adam Stewart continues his leadership role in the family's extensive hospitality, media, automotive and appliance business holdings, including his position as Deputy Chairman and CEO, The ATL Group, comprising the Jamaica Observer, the country's leading daily newspaper and ATL Appliance Traders, a chain of domestic and commercial appliance outlets combining exclusive distributorship of the world's top electronic brands and 'unbeatable' customer service throughout Jamaica. Deeply committed to the region, he is the President of the Sandals Foundation, a 501 (c) (3) non-profit organisation aimed at fulfilling the promise of the Caribbean community, and also serves as 1st Vice President of the Jamaica Hotel & Tourist Association and is chair of the country's Tourism Linkages Council, which seeks to enhance the capacity and competitiveness of local suppliers, making the strength of tourism work for all.
A decade under Adam Stewart's stewardship, Sandals continues to follow a trajectory of exhilarating growth that has seen new resorts, new islands being explored and the introduction of industry-changing innovation and developments. Stewart's ambitious leadership has moved the brand well beyond the all-inclusive concept to its signature Luxury Included® resorts, offering guests unprecendented and unmatched holiday priviliges and experiences in the region's most sought-after locations. Stewart's leadership has earned the company international acclaim and has seen the brand being named the World Travel Awards' Leading Luxury All-Inclusive Company for 22 consecutive years.
With Stewart as the pioneer, the company expects even more growth and has plans to double size and triple revenue over the next decade through at least 10 new exciting developents, including the debut of the highly-anticipated over-the-water suites at Sandals Royal Caribbean Resort & Private Island, the first of its kind for the Caribbean. This pioneering spirit has been recognised and awarded by many, resulting in Stewart receiving numerous accolades, among them, the Jamaica Hotel and Tourist Association's Hotelier of the Year 2015, World Travel Awards' Rising Star, Caribbean World's Travel and Tourism Personality of the Year, the Distinguished Alumni Torch Award from FIU and The Gleaner Company's Jamaica 50 under 50 Award. In October 2015, Stewart was named the Caribbean Hotel and Tourism Association's Hotelier of the Year 2015.
A lover of the ocean and all things adventurous, Stewart was inspired by his passion for sharing the Caribbean with others, and launched the Caribbean's premier luxury tour company, Island Routes Adventure Tours, offering countless unique and exciting tour and adventure experiences throughout the region. Island Routes has since transformed from a small island outpost to a multiple World-Travel-Award-winning company employing 200 people and offering hundreds of adventures in 12 countries. In just seven years, Island Routes has earned the enviable title of the World Travel Awards' Leading Caribbean Tour Company for four consecutive years. Following significant investments in new assets such as its first-class fleet of luxury cars and buses, in 2014, the company expanded into destination management services and has since signed landmark partnerships with leading brands such as Air Canada Vacations and Hyatt.
Though he's had many successes in the field, his passion for hotels and tourism is but one chapter of Adam Stewart's story. In August 2009, Stewart was appointed CEO and Deputy Chairman of the family-owned ATL Group comprising the Jamaica Observer, the country's leading daily newspaper and ATL Appliance Traders, a chain of domestic and commercial appliance outlets combining exclusive distributorship of the world's top electronic brands and 'unbeatable' customer service throughout Jamaica.
Established in 1968, ATL Appliance Traders has been significantly modernized under Stewart's leadership. A re-energized company now encompasses a broad spectrum of new sectors with international aspirations while still remaining faithful to the philosophy of service that Stewart's father created many years ago. Now in 2016, celebrating its 48th year, the ATL Group is part of the largest private sector organisation in the country boasting over 750 employees nationwide.
In 2010, driven by his love for cars, Stewart changed the face of the automotive industry in Jamaica with the creation of ATL Automotive. With multi-million dollar distributorships and state-of-the-art service centres located in Kingston and Montego Bay, ATL Automotive boasted unrivalled sales and service of Audi, Volkswagen, Honda, Jaguar, Land Rover and Range Rover automobiles. Jamaica embraced Stewart's vision and the revitalized Volkswagen and Audi brands enjoyed huge sales increases in their first years of business, 272% and 346% respectively, with each breaking sales records and making Audi the number one premium brand in Jamaica. The Honda brand, part of the ATL Group since 1997, also scored big with the Honda Automobile Customer Experience Award for two consecutive years and beating all 22 countries who carry the brand in the Latin America and Caribbean region, for market share.
After registering sales of 146%, ATL Automotive, in April 2015, announced the termination of its distributorship of the Land Rover and Jaguar brands in order to focus on new brands to better complement the company's growth strategy. Stewart further changed the game when he announced the introduction of ATL Autobahn, a new division under the ATL Automotive umbrella, through which the company would have sole rights to distribute and service Porsche, BMW and Mini throughout Jamaica. And that was not all. Stewart also revealed that ATL Autobahn would be the master dealer for BMW and Mini for the Caribbean region, with operations in nine other countries: Trinidad and Tobago, The Bahamas, Cayman Islands, Curacao, Barbados, Aruba, St Lucia, Suriname, and Antigua.
Despite being one of the most prominent young businessmen in the world, Stewart remains a proud Jamaican and citizen of the Caribbean dedicating much of his time to elevating the region he calls home.
In 2009, Stewart founded the Sandals Foundation with the aim of uniting the region under one common goal: to lift its people through education and protect its delicate ecosystem. The Sandals Foundation harnesses the resources, talents, partnerships and awareness behind the Sandals Resorts brand to tackle a myriad of issues affecting the Caribbean. In 2013, Stewart was named as an Ambassador of the Caribbean-SickKids Paediatric Cancer and Blood Disorder Project. The not-for-profit collaboration between Canada's renowned Hospital for Sick Children in Toronto and various institutions across six Caribbean islands works to provide the best possible management for paediatric cancer and to improve outcomes for children affected by cancers and serious blood disorders in the region. Stewart also founded and sits as Chairman of We Care for Cornwall Regional Hospital, a local non-profit organisation that brings together Montego Bay-based individuals to raise funds and improve the facilities of the nearby Cornwall Regional Hospital.
Underlining his reputation as a staunch advocate of education, Stewart established an internationally-accredited private sector educational institute, the Sandals Corporate University/ ATL Academy of Excellence. Launched in early 2012, the Sandals Corporate University pushes the boundaries of distance learning in the Caribbean with over 4,100 team members enrolling in the University to date, and the resorts themselves reaching new levels of excellence.
In 2016, Stewart received the Order of Distinction (Commander Class) for outstanding contribution to tourism and the hotel industry. The Order of Distinction is a national honour conferred by the Government of Jamaica upon citizens who render outstanding and important services to the country. Additionally, he was appointed a member of Jamaica's Economic Growth Council and a member of the Board of Directors of the Port Authority of Jamaica by Prime Minister, The Most Honourable Andrew Holness. These appointments were shortly followed by another commendable accomplishment when he was asked by Jamaica's Minister of Tourism, the Honourable Edmund Bartlett, to lead the Tourism Linkages Committee in the capacity of Chairman. Stewart also currently holds the post of First Vice-President for the Jamaica Hotel and Tourist Association. Stewart also received the award for 2016 Caribbean American Mover & Shaker – Humanitarian of the Year from the Caribbean Media Network.
Within the local community, Stewart continues to serve as ambassador to the University of the West Indies, helping to promote higher education in Western Jamaica and throughout the island and region at large.
Adam and his wife Jill are proud parents to son Aston and daughters Sloane and Camden.
Read More
Our CEO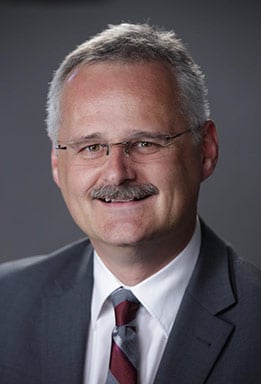 Gebhard F. Rainer
Chief Executive Officer, Sandals Resorts
Gebhard F. Rainer is Chief Executive Officer of Sandals and Beaches Resorts, the world's most recognised brands of luxury all‐inclusive resorts including Sandals Resorts, the adult, couples‐only resorts for two people in love, and Beaches Resorts, the family‐friendly resorts for everyone. In this role, he manages internal processes as SRI prepares to rapidly accelerate the strategic growth of the award‐winning luxury all‐inclusive brands under its banner.
Rainer is an accomplished and highly‐regarded hospitality executive with more than thirty years of global operations and international finance experience, most notably with Hyatt Hotels Corporation, where he served as Executive Vice President and Chief Financial Officer. Before joining SRI, he immersed himself in global luxury brands manufacturer COACH Inc. as President and Chief Operating Officer.
He completed his graduate degree at the Hotel Management School in Bad Hofgastein, Austria, and went on to begin his hospitality career in 1988 as Director of Finance for Hyatt Hotels. Throughout his career, he expanded his horizons by completing executive training programs at The Kellogg Graduate School of Management at Northwestern University, Massachusetts Institute of Technology and Booth School of Business at University of Chicago.
Dedicated to propelling the hospitality industry forward, he serves on the advisory board of AT‐Visions, a technology company committed to the needs of the hospitality and entertainment industries. He is also a Member of the Board of Directors for Oasis Center International that advocates for arts education, minority rights and civic engagement.
Rainer brings global expertise from his extensive international travels and his experiences living all over the world ‐ from the Middle East, to Eastern and Western Europe, to the United States.
Read More
timeline
sandals resorts international
Our Values
sandals resorts international
Corporate Social
Responsibility

Corporate Social Responsibility
When Gordon "Butch" Stewart opened his first resort, he had one very important mandate; the resort would be required to adopt a school in the community. Team members were to care for it and ensure that the facilities and students had what was needed to be successful. That was more than thirty years ago, and the beginning of a corporate commitment to community and a tradition of service that SRI has nurtured. "We have the resources, therefore the responsibility to act," says Stewart.
Today, every resort under the SRI banner is required to adopt schools and in some cases, entire communities to ensure that the messages of health, safety, environmental concern, community and opportunity are shared as much as possible. From helping to provide new computer labs and building additional classrooms to giving scholarships for academically bright but needy students and hosting career days - our resort teams continually provide mentorship and share their knowledge and resources with our Caribbean neighbours.
In 2007, Sandals Resorts earned the Condé Nast Traveler World Savers Award for the Adopt-A-School program and the work in the Caribbean communities where Sandals Resorts are based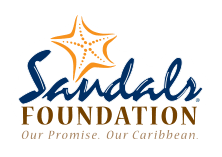 The Sandals Foundation
The Sandals Foundation is the philanthropic arm of Sandals and Beaches Resorts, and was created as a natural extension of the nearly three decades of the company's lasting commitment to the Caribbean.
As an independent non-profit organisation, the Sandals Foundation has assumed the existing activities of Sandals and Beaches Resorts with the aim of expanding their reach to create a positive and sustainable impact on people's lives and the environment. Working with their neighbours, civic leaders, employees and partners, they have identified programmes in the areas of education, environment and community to achieve their promise.
The power of the Sandals brand, the strength of Sandals partnerships, and the passion of our people put them in a great position to have a lasting and meaningful effect on improving lives in the Caribbean.
Learn More

Sandals Earth Guard
Sandals and Beaches Resorts is a leader within Caribbean hospitality, and through introducing new concepts such as the eco-village at Sandals Montego Bay, an exclusively solar-powered village continuing to set regional sustainability standards, the company is determined to lead the region in environmental stewardship; while encouraging other resorts and hotels to follow in its footsteps. The more hotels and resorts that practice sustainability initiatives, the better it is for the environment, the guests that visit and our family, friends and neighbours who call the Caribbean home.
From recycling to conserving, SRI is committed to providing quality holiday experiences for guests while working to minimize the environmental and social impacts associated with operations. The resort company was the first official hotel chain in the Caribbean to have a Group Director of Environmental Affairs whose sole responsibility is to lead the company's corporate environmental sustainability effort. Since 1997, the company has had a formal environmental policy for all of its resorts with dedicated Environment, Health and Safety (EHS) Managers at each property to oversee and be accountable for environmental management performance indicators.
Learn More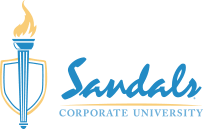 Sandals Corporate University (SCU)
Sandals Corporate University (SCU) is the company's regional adult education program for the 10,000 employees of Sandals Resorts and Beaches Resorts.
The first of its kind in the Caribbean, the SCU certifies staff members currently without formal academic qualifications and provides qualified team members with an avenue to advance their education. Through partnerships with internationally recognised universities, professional organisation and local education institutions, the SCU offers programmes that range from basic hospitality-specific training to putting them on a learning pathway that can ultimately lead to a masters and/or doctoral degrees.
In addition to receiving practical training in specific disciplines, SCU also focuses on eight key learning objectives. Among these elements are the SCU competency assessment, examining the knowledge, skills and attitudes employees require to perform efficiently; the SCU cross training program, allowing team members to gain inter-departmental experience; SCU "volunteer" hours, which gives team members the opportunity to engage in philanthropy by volunteering through the Sandals Foundation and Sandals EarthGuard; and professional qualifications, providing team members with professional certifications at an international level.
Awards
VOTED WORLD'S BEST YEAR AFTER YEAR
For a decade, we have earned every resort award and accolade in the industry, placing Sandals leagues above any other all-inclusive resort. But the greatest reward of all is the high level of guest satisfaction we enjoy, with more than half of our guests having stayed with us before. Sandals is not only the World's Best in the eyes of the travel industry, but the best all-inclusive resort in the hearts of couples around the world.